For Americans not yet convinced of Pfizer's intentionally sinister role in the declining physical and mental health of our nation, the billion-dollar company's behind-the-scenes funding of the test widely used for depression is another decisive example. Specifically, while searching in the late 1990s for ways to encourage primary care doctors to prescribe its newly-released antidepressant Zoloft (sertraline)—instead of presenting peer-reviewed scientific research—Pfizer teamed up with a marketing whiz named Howard Kroplick, who devised a simple checklist that created a sense of certainty and accuracy around a mental illness diagnosis.
That's right, in addition to the current revelations coming forward of Pfizer's enormous collusion with the federal government around its failed experimental COVID-19 injection, along with its $2.3 billion settlement in 2009 with the U.S. Department of Justice (DOJ) for fraudulent marketing—the largest healthcare fraud settlement in DOJ history—Pfizer plotted a "quick and dirty tool" to diagnose mental illness, which significantly broadened its base of probable Zoloft prescribers. Intended to make treating mental illness effortlessly routine for primary care doctors, the test, called PHQ-9 and introduced in the early 2000s, is still being used today.
In a recent interview with STAT, Kroplick—who boasted that he urged Pfizer to avoid using the word "impotence" when promoting its drug Viagra—shared for the first time how, more than two decades ago, he came up with the idea to capitalize on the vast untouched market that existed within the walls of primary care offices, many of which were uncomfortable treating mental illness, and rightly so. He pitched the questionnaire consisting of nine superficial questions to both scientific creators and executives at Pfizer, who, as previously noted, funded Kroplick's work. Proudly remarking, "it wouldn't have happened if it weren't for me," Kroplick explained that once implemented, the grossly unscientific tool "took on a life of its own," becoming "omnipresent." Alarmingly, PHQ-9 has been cited in more than 11,000 scientific papers.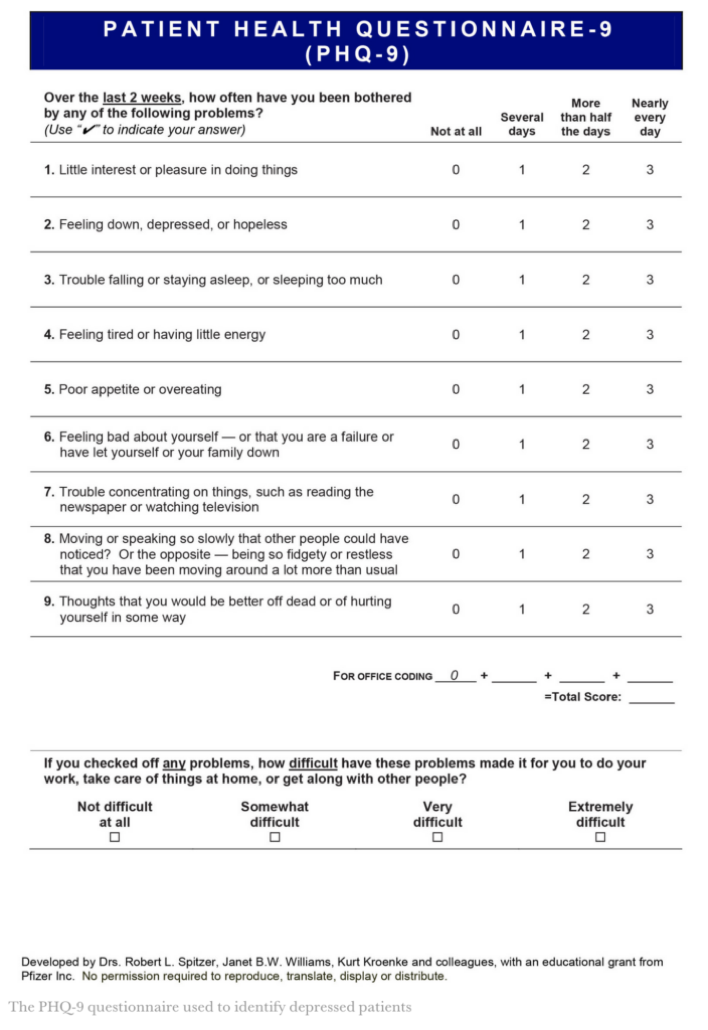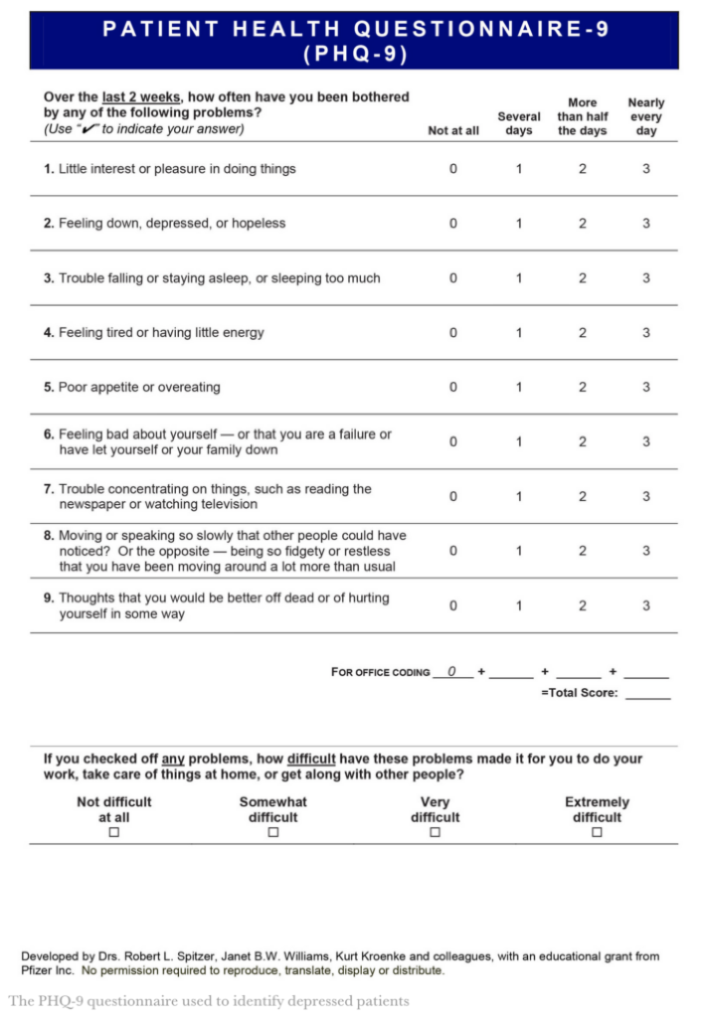 Screenshot / STAT
To this day, despite several experts stating the form was never meant to be a diagnostic test to diagnose mental illness, the "go-to" checklist is routinely and effortlessly handed out to patients during primary care check-ups and OB-GYN visits—regardless of whether a patient has voiced mental health concerns. The nine questions touch on a range of issues that sets the threshold for anxiety and depression "far too low," according to UK-based psychotherapist James Davies, co-founder of the Council for Evidence-based Psychiatry.
In 2017, a concerned Davies remarked that the form, which should only be used as a conversation starter between doctor and patient, if at all, resulted in patients being wrongly diagnosed and medicated. For example, patients whose symptoms may stem from unusually stressful or traumatic episodes in their lives end up being labeled as clinically depressed or anxious. With U.S.-based multinational Pfizer manufacturing most of the commonly prescribed SSRI drugs for anxiety and depression in the UK, Davies told the Telegraph:
"GPs are very busy, and they often don't have time to do a full interview. It's about getting people in and out of the door in 10 minutes. These forms have a very low criteria for anxiety and depression.
Millions of people have filled them in and got medication, but did they know they were developed by Pfizer?"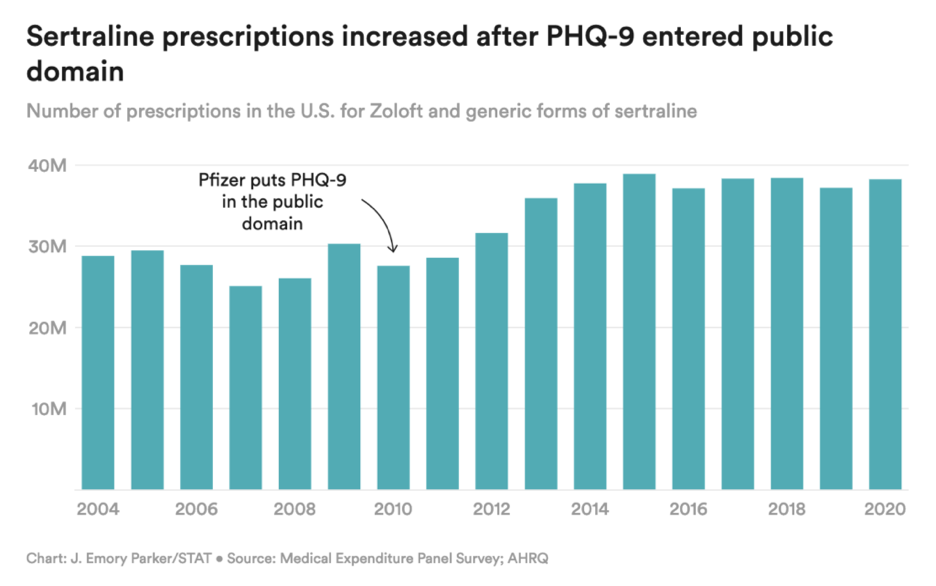 Screenshot / STAT
Likewise, the former head of the National Institute of Mental Health, Tom Insel, noted that "today, depression is all too often treated like a strep infection," with prescriptions churned out by primary care doctors with little training in mental health. Insel insists there is more to treating depression "than writing a prescription," and that "primary care isn't really set up to do more than that." Indeed, the incredibly devastating predicament of using dangerous SSRI drugs to flippantly tinker with the mental health of trusting and unsuspecting individuals, including children and teens, is criminal. At the very least, the hard-earned money of American taxpayers—which flows like an endless spigot into the federal agencies intended to protect the nation's health—should be used to properly and effectively address a problem as significant as mental illness. Unfortunately, Big Pharma's influence is too powerful.
According to STAT, who reported they spoke with half a dozen experts—from researchers to public health experts and physicians—who disclosed that the across-the-board misuse of PHQ-9 has had far-reaching consequences and, without question, merits heightened scrutiny. For those who are depressed, not only does the quick and shallow interaction with their doctor generally offer poor long-term results, but the form itself promotes depression above all other mental health conditions.
Undoubtedly, the hugely lucrative market for SSRIs incentivized Pfizer and other pharmaceutical companies to emphasize the diagnosis of depression. Just like with Pfizer's gene-damaging COVID jab, the motives here are purely driven by profit. "The idea was … let's identify as many cases as we possibly can," said psychologist Jonathan Shedler, who worked on a different screening tool for Lilly in the '90s. He added, "No one had incentive to say it looks like depression, but it's a symptom of trauma or depression secondary to substance abuse." It was, after all, the 1988 launch of Eli Lilly's Prozac, the first SSRI marketed in the U.S. and the first psychiatric drug to bring in a billion dollars a year, that changed the game and expanded the depression market. Offering what he presents as a blameless rationale for Big Pharma's scheme to migrate mental health screening to consist of a short checklist void of any meaningful discussion, Shedler shared with STAT:
"The goal was to put depression on the map. Their marketing strategy, which worked brilliantly, they wanted to move prescriptions out of psychiatry, which is a small specialty, and into primary care."
Like Shedler, Kroplick, who started promoting Pfizer's drugs right out of the University of Pennsylvania's Wharton School, claims that "despite their strong safety profile," few primary care doctors were prescribing antidepressants. Apparently, while assuming the role of a "Good Samaritan" not focused on profits but instead on the well-being of Americans who needed antidepressants, Kroplick set out to change that. Speaking of the primary care doctors he targeted, Kroplick remarked, "They were scared of mental health, they felt they didn't have the expertise for it, but their patients were depressed." Thus, with Pfizer footing the bill, PHQ-9 was born.
Hopefully, with enough criticism from reputable experts, the dangers of SSRIs and the corruption of Pfizer will finally take center stage. Allen Frances, professor emeritus of psychiatry and behavioral sciences at Duke University, is quite critical of the over-diagnosis of depression and the "very misleading" research behind PHQ-9, which all but rules out other potential diagnoses that could be behind answers on the form. Let's not forget Zoloft became a massive success for Pfizer. In 2005, the last year before its patent expired, the drug brought in nearly $3.3 billion. Today, it remains the 12th most commonly prescribed medication in the U.S., doled out to 7.7 million patients a year.
Unfortunately—in what is the most incompetent, deceptive, and utterly devastating aspect of this entire catastrophe—SSRIs like Zoloft are eagerly prescribed to teenagers like candy, leading to more significant mental health crises and, tragically, even suicide. Frances points out that Pfizer failed to even consider the "disastrous unintended consequences" of relying too heavily on its checklist—namely, the tool has a high false positive rate, which served Pfizer's interests, but not those of patients and, most especially, our children. Shifting the focus back to where it belongs (and away from Kroplick's insulting assertion that Pfizer's motive behind pushing PHQ-9 is out of a genuine concern for the mental health of Americans), Frances aptly summarized the corrupt narrative at play, remarking:
"If you want to make a billion-dollar or $5 billion-dollar drug, if you want a real blockbuster, you're not going after the psychiatrists who will be prescribing it, you're going after the primary care doctors.
If you can advertise to patients that there's a magic pill that's going to solve all their problems, and if you can convince doctors that there's an easy way of diagnosing depression, you have a perfect combination."