According to a newly released study performed at the independent German Institute for Quality and Efficiency in Health Care, more than half of the new drugs entering the German healthcare system show absolutely no added benefit.
Between 2011 and 2017, researchers examined 216 drugs that passed regulatory approval and entered the German market. Most of these assessed drugs were also approved by the European Medicines Agency for widespread use throughout greater Europe.
The German Act on the Reform of the Market for Medicinal Products (AMNOG) was introduced in 2011 to regulate the early benefit assessment of new drugs. More than half of the drugs that have entered the market in Germany since then have emerged from these assessments without any proven added benefit.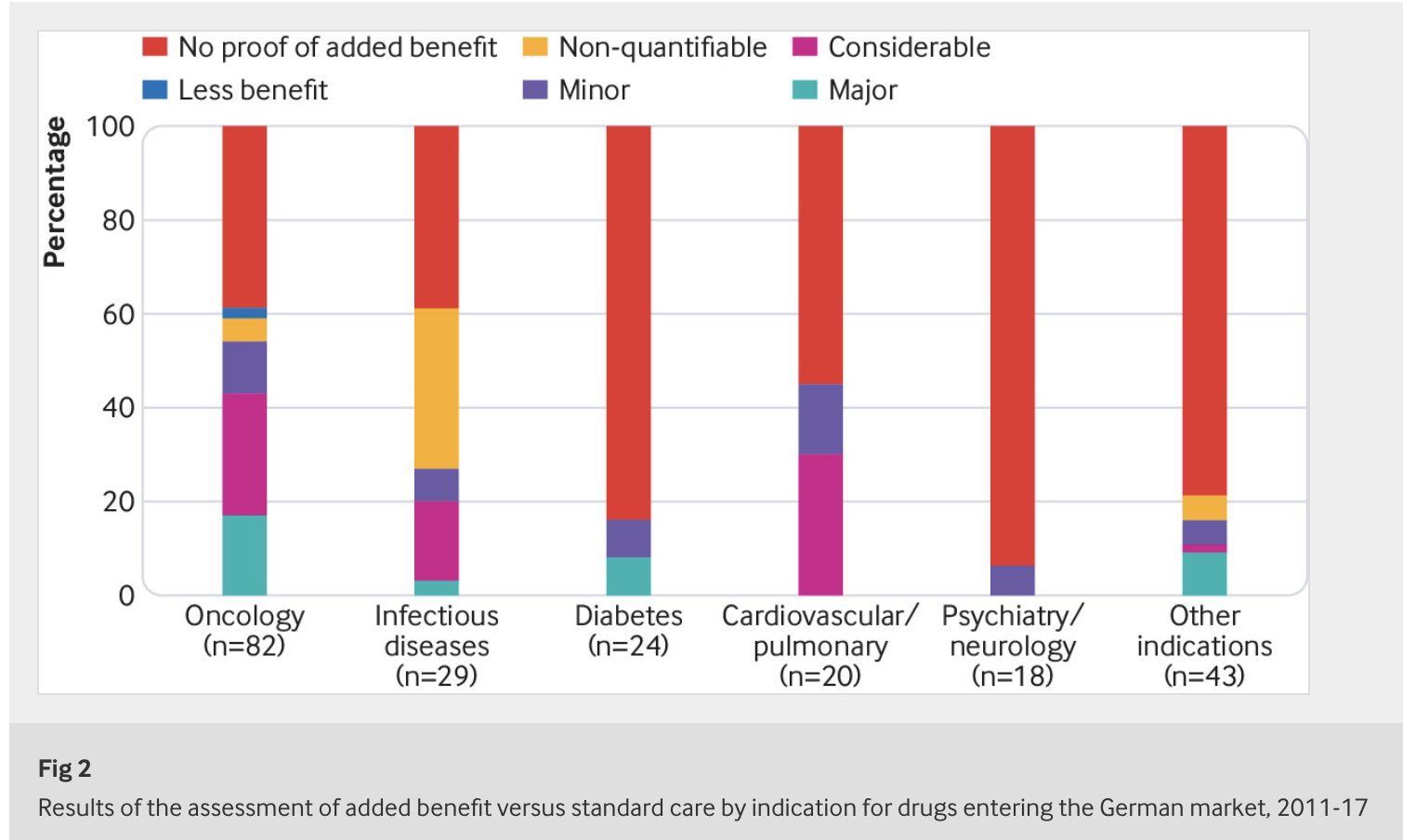 Beate Wieseler, Head of IQWiG's Drug Assessment Department and first author of the article notes: "There are three reasons for the conclusion 'added benefit not proven'. Often simply no studies are available comparing the new drug with the standard treatment for the disease. In other cases studies are available, but the control treatment is unsuitable, for example, because it is not approved for the patients investigated. In this situation, there is no information that could support the decision by patients and physicians for one of the available treatment alternatives. In a smaller number of cases, suitable studies comparing new drugs and standard treatment are available, but do not show any clear advantages or disadvantages.
The hope that the information deficits could be remedied by so-called post-marketing studies has so far not been fulfilled. Such studies are rarely conducted and published – and if they are, they rarely confirm the added benefit of the new drugs.
The IQWiG's findings are just another black eye for the pharmaceutical industry. Recently published in the Journal of the American Medical Association (JAMA) is a study titled Anticholinergic Drug Exposure and the Risk of Dementia. The study showed a nearly 50% increased odds of dementia in people taking antidepressants, antiparkinson drugs, antipsychotic drugs, bladder antimuscarinics, and antiepileptic drugs.
Meanwhile, another study recently published found people prescribed antidepressants were 2.5 times more likely to attempt suicide than depressed people taking placebo pills. The research, published in the journal Psychotherapy and Psychosomatics, combined the results of 14 studies involving nearly 32,000 people taking a variety of antidepressants.
Drugs have potential benefits and harms. For a company who makes the drugs, their job from a marketing standpoint is to inflate the potential benefits and minimize the idea of harms. For decades, oversight by regulatory agencies has been limited at best with conflicts of interest often permeating their recommendations and approvals. As new studies continue to cast pharmaceutical drugs in a well-deserved light of limited effectiveness and array of various harms, what course of action with the public and the medical community take?