Conflicts of interest and potential corruption apparently exist in every corner of the Biden administration. As the 2025 Dietary Guidelines Advisory Committee (DGAC) begins its review of the Dietary Guidelines for Americans, a process that occurs every five years, Senator Chuck Grassley has disclosed that at least one committee member has significant ties to Big Pharma. In a March 17 letter to the Secretaries of the Department of Health and Human Services and the Department of Agriculture, Grassley highlighted the failure of both agencies to follow the recommendations from the National Academies of Science, Engineering, and Medicine—as requested by Congress—which explicitly call for public transparency for any known conflicts of interest.
Realizing a lucrative relationship with the drug industry, the appointment of Mass General Hospital obesity doctor Dr. Fatima Cody Stanford to the DGAC suggests that Biden's big government is collaborating with billion-dollar Big Pharma to manipulate the Dietary Guidelines. Minimizing the importance of a proper diet when addressing obesity, Dr. Stanford, who is also a professor at Harvard Medical School, asserts that the number one cause of obesity is genetics. As such, as stated in an interview with the New York Times, Dr. Stanford is advocating for a bill called The Treat and Reduce Obesity Act which would require Medicare to cover anti-obesity drugs like the one she has been paid tens of thousands of dollars to promote. Obesity might be tied to genetics, but Stanford's involvement on the panel is suspicious.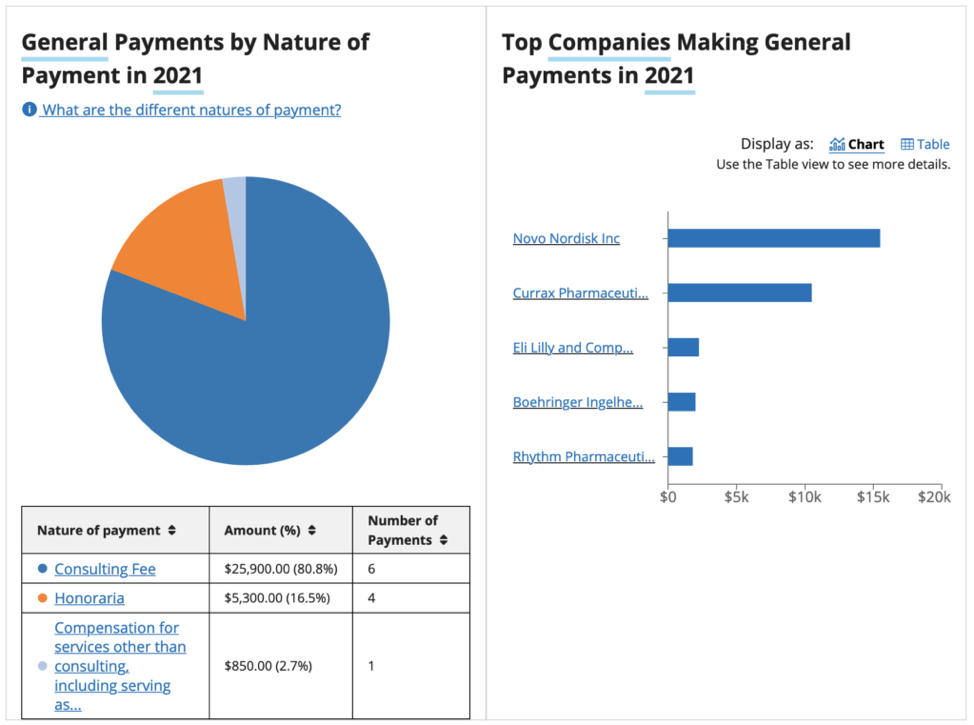 Screenshot / Open Payments / Fatima C Stanford
Moreover, as the nation navigates the adverse effects of the tyrannical COVID lockdowns, which resulted in a marked increase in obesity, Dr. Stanford is not pushing a healthy diet. Nope, not even as Bill Gates drives the push for synthetic foods, genetically alters seeds with toxins, and sprays poisons across farmlands, a healthy diet is paramount. Instead, Dr. Stanford is letting Big Pharma's money talk and is promoting weight loss drugs like the popular but hard-to-obtain Wegovy (and Ozempic), developed initially for diabetes and often costing more than $1,300 a month. Chalking the drug's inaccessibility up to a disparity between "the have and the have nots," in a January 1, 2023 interview with Lesley Stahl of 60 Minutes, Dr. Stanford remarked:
"We have a national shortage on these medications. If those that have the means are able to get them, yet the people that really need them are unable to. Then that creates a greater disparity, right?
The vast majority of people with obesity simply can't afford Wegovy and most insurance companies refuse to cover it partly because, as AHIP—the health insurance trade association—explained in a statement, these drugs "have not yet been proven to work well for long-term weight management and can have complications and adverse impacts on patients."
The new drugs being used to treat obesity are in a class called incretin mimetics or GLP-1 based drugs, which mimic the effects of a hormone called glucagon-like peptide 1 that has been shown to help individuals feel full. Taken by injection, the drugs can lead to a startling amount of weight loss but have to be taken regularly to avoid gaining the weight back. No big deal, just a lifelong shot to keep the weight off. Disappointingly, Dr. Stanford suggests the drugs she's profited from without first examining the effects of GMOs, toxic chemicals like glyphosate, and vaccines—not just the experimental mRNA COVID jabs, but all vaccines—and the havoc they can wreak on the body. After all, the gut-brain connection is hugely important in overall health.
With 42 percent of adults and 20 percent of children in the U.S. estimated to have obesity, Dr. Stanford is virtually removing diet and nutrition from the equation. And data supporting the drug's use for obesity, even in adolescents, is funded by Big Pharma, just like it was with the dangerous COVID injections. Side effects of the drugs, not mentioned by Dr. Stanford, include increased heart rate, risk of thyroid cancer (with a black box warning), pancreatitis, gallstones, anxiety, diabetic retinopathy, and severe allergic reaction, among others. Likewise, it runs the risk of fetal harm, and it is unknown if the drugs are safe to use when breastfeeding. Regardless, Dr. Stanford praises the prescriptions, which the FDA approved for "chronic weight management" in 2021, saying:
"This is really changing the conversation, changing the understanding of the fact that this is an actual disease and not something that's just a matter of a moral failing on the individual patient's part. I have never seen a conversation surrounding obesity, obesity as a disease, the treatment of excess weight in a way that I see now."
To be clear, there is no question that obesity is a widespread health issue that should be addressed as it significantly impacts overall health. These drugs very well may significantly benefit the morbidly obese. But, as aptly noted by Saagar Enjeti, they should NOT "become the new SSRI doled out to any and everyone for a huge profit." Additionally, given that weight loss medications are estimated to generate $30 billion in sales by 2030, it is reckless to have members of the DGAC evaluating and crafting the nation's Dietary Guidelines (public comments can be viewed and left here) while receiving money from Big Pharma to promote weight loss prescriptions. For this reason, Sen. Grassley has asked HHS and the USDA for the non-public Confidential Financial Disclosure reports for all twenty members of the DGAC. With a deadline of March 31, 2023, he also wants to hear from Biden administration officials about how they intend to handle these potential conflicts, stating in his letter:
"In what will become the official U.S. government recommendation on basic nutrition that policymakers, healthcare professionals, educators, and families across the country will rely on to build healthy habits from 2025 to 2030, such an important report must be free from outside influences that stand to profit from shaping it.
DGAC will be exploring overweight and obesity health outcomes in the committee's scientific evidence review and it is important the questions pursued by the committee under this topic are free from the influence of the pharmaceutical industry and obesity doctors who may stand to benefit financially. I am concerned these influences could misconstrue data and information in the review process and provide flawed recommendations to the American people."