By Jefferey Jaxen
New Jersey is the state with perhaps the largest pharmaceutical presence in the nation. It's also the latest state to go peddle-to-the-metal to eliminate the religious exemption from vaccination if you want your child to be able to go to school.
Want to talk hypocrisy? Let's take a look at the New Jersey chairman of the Senate health committee and co-sponsor of the bill, State Senator Joe Vitale. 
The Senator paints himself as a champion of civil rights. His own website boasts, "During his time in the Senate, Joe has fought to end all forms of discrimination in New Jersey." 
Yet Vitale's bill will invalidate the religious beliefs of New Jersey families, and exclude their children from public education. The state will offer no further assistance or resources to those it renders unfit. 
New Jersey is moving to axe their Constitutional adherence to freedom of religion under the guise of past, limited and self-correcting measles cases. The state has no ongoing emergency or pretext for the move. Nor has the state made any provision for homeschoolers, special needs children, or religious exemptions for future vaccine mandates. 
In their letter to Senate members, The National Vaccine Information Center (NVIC) made several points in opposition to the bill, stating: "Public health emergency provisions to suspend religious exemptions already exist…in [this] case …it is completely unnecessary and cruel to restrict or remove religious exemptions." 
NVIC also made the point that vaccination rates for New Jersey children are already high: "Kindergarten vaccination rates in New Jersey for MMR, DTaP, Varicella, Hep B, and Polio are all > 95% according to the Centers for Disease Control."
Yet right out the gate, it appeared that the vote was rigged in favor of the bill's passage. Testifying on a questionable anomaly, attorney Mary Holland stated, "I have noticed that the composition of this committee has changed over the last day. And that Senator Sweeney, Cryan and Smith are replacing Senator Rice, Lagana and Gopal who had announced that they would maintain the religious exemption. These kinds of backchannel changes undermine faith in the legislative process."
John Gilmore, leader of the Autism Action Network, took to Facebook to speak on the events that transpired in New Jersey. 
"[Sweeney] scheduled the vote when two Republicans members and known "no" votes were not going to be present…Health Committee Chair Joe Vitale switched out three known Democratic "no" votes and replaced them with safe "yes" votes."
On Thursday, the bill proceeded via a 6-4 vote and is slated to face a full Senate vote Monday. 
It wasn't just parents, religious leaders, doctors, and activists who vocally opposed the New Jersey bill. Two days before the vote on December 10, Senator Michael Doherty (R-23) put out a statement saying, "My District Office phone has been ringing off the hook with parents concerned that their children will be forced to receive needle injections that violate their religious beliefs. This is big, obtrusive government at its worst." 
Doherty continued his opposition on the floor of the Senate Health, Human Services and Senior Citizens hearing before his "resounding no" vote on Thursday saying, "This [bill] is yet another example of our Constitutional rights being eroded by big government."
Doherty called the original draft of the bill, which required citizens to submit notarized statements of their personal religious beliefs to "agents of the government" in order to exercise their First Amendment rights, "absolutely outrageous" and "borderline insanity." The current, amended version of the bill, which does away with the religious belief exemption completely, he deemed "just as bad."
Also casting a "no" vote was Senator Robert Singer (R-30). For two decades, Singer has served as the Vice-Chairman of the Ocean County Board of Health, New Jersey's largest such body. Singer stated, "There has to be a compromise on this issue…To say to [parents] they're going to have to pull their child out of school, and in some cases have to leave the state, is just not fair."    
Before casting her "no" vote, Senator Kristin Corrado (R-40) commented, "I am concerned if we move forward with this legislation, there are going to be unintended consequences. And then we will be in a whole new place trying to clean up these unintended consequences."
Senator Gerald Cardinale (R-39), who expressed concern over a movement in the legislature to "stamp out religion," stated, "I believe this bill has some of the trappings of a hate crime. It's a hate crime against people because they have a religious belief that is different than ours. They have a concern about their children that is different and practiced differently than ours."
In June, the American Medical Association (AMA) announced it would throw its lobbying clout behind state and federal efforts to end personal and religious exemptions from vaccinations for children entering schools. What does that effort look like at the street level? 
Before this past Thursday's New Jersey vote, the state's AMA chapter put out a call on Facebook for "50-100 individuals who will attend the hearing." The page has since removed the post.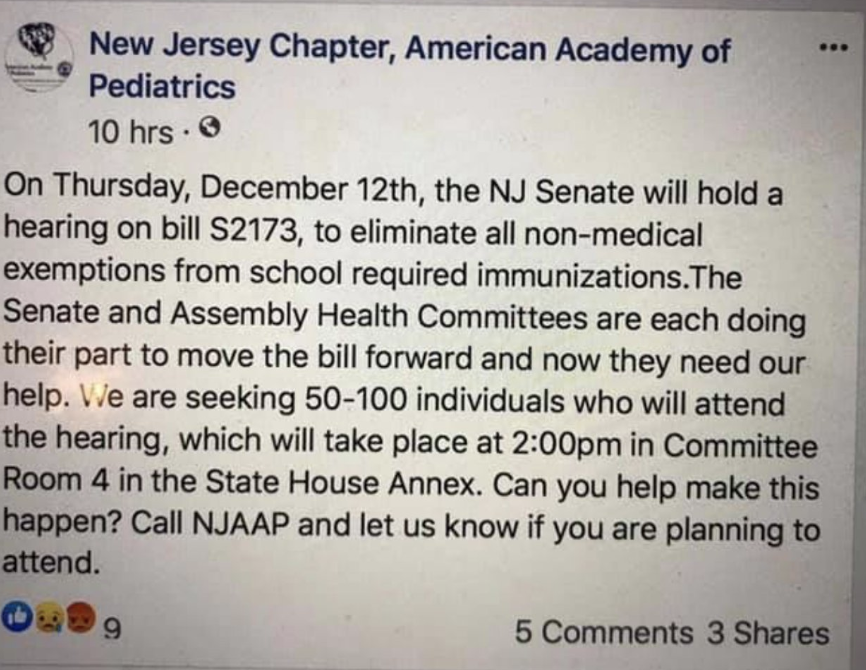 Being interviewed at the New Jersey capital during last Thursday's vote was Dr. Liam Schubel, who described the questionable activities of a "pediatrician group" who "schooled the pediatrician's on what they need to say" he witnessed firsthand.
Dr. Schubel gave a statement to The HighWire on what he observed, 
"The medical lobbyist did a wonderful job providing VIP service to all the medical organizations who benefit from this bill while leaving the common citizens who put these politicians into the office to stand out in the cold with their children."
If that's not bad enough, consider the following medically-privileged hypocrisy: As the AMA grandstands to take away the Constitutionally-assured freedom of religion for all American families, they still support and defend their members right to this freedom! 
Written in the AMA's own Code Of Ethics Opinion 8.7, it states:
"…physicians should accept immunization absent a recognized medical, religious, or philosophic reason to not be immunized."
What was the compelling reason to violate protected religious rights to force for-profit products with known risks? Several New Jersey Senators didn't think there was enough to justify such an authoritarian bill. Why does the AMA get to direct and choose which protected classes do and do not get to exercise freedom of religion in America?
What's next for New Jersey is anyone's guess. New Jersey Governor Phil Murphy has indicated he will sign the bill. Meanwhile, countless New Jersey citizens are reaching out to the Governor's office in hopes of a zero-hour reprieve if the bill ends up on his desk.
Thousands are expected to descend on the capitol tomorrow [Monday] as the bill will be put up for vote in both the House and the Senate on the same day echoing the questionable, and some have labeled corrupt, actions of the California legislature with SB 276.