The Florida Department of Health (FDH) conducted an analysis through a self-controlled case series, a technique originally developed to evaluate vaccine safety, and just announced some shocking results.
In a press release discussing the findings of the study and announcing the new mRNA Covid-19 vaccine guidance, FDH wrote, "This analysis found that there is an 84% increase in the relative incidence of cardiac-related death among males 18-39 years old within 28 days following mRNA vaccination."
Alongside the study's publication and findings the state's Surgeon General, Dr. Joseph A. Ladapo, has recommended against males aged 18 to 39 from receiving mRNA COVID-19 vaccines. "Those with preexisting cardiac conditions, such as myocarditis and pericarditis, should take particular caution when making this decision" reads the recent FDH press release.
A link to the study and a short description of it posted to Twitter by Dr. Ladapo was promptly deleted from the social media site because it "violated the Twitter rules" according to the company. Yet, after prompt public backlash, Twitter capitulated and reinserted the Tweet.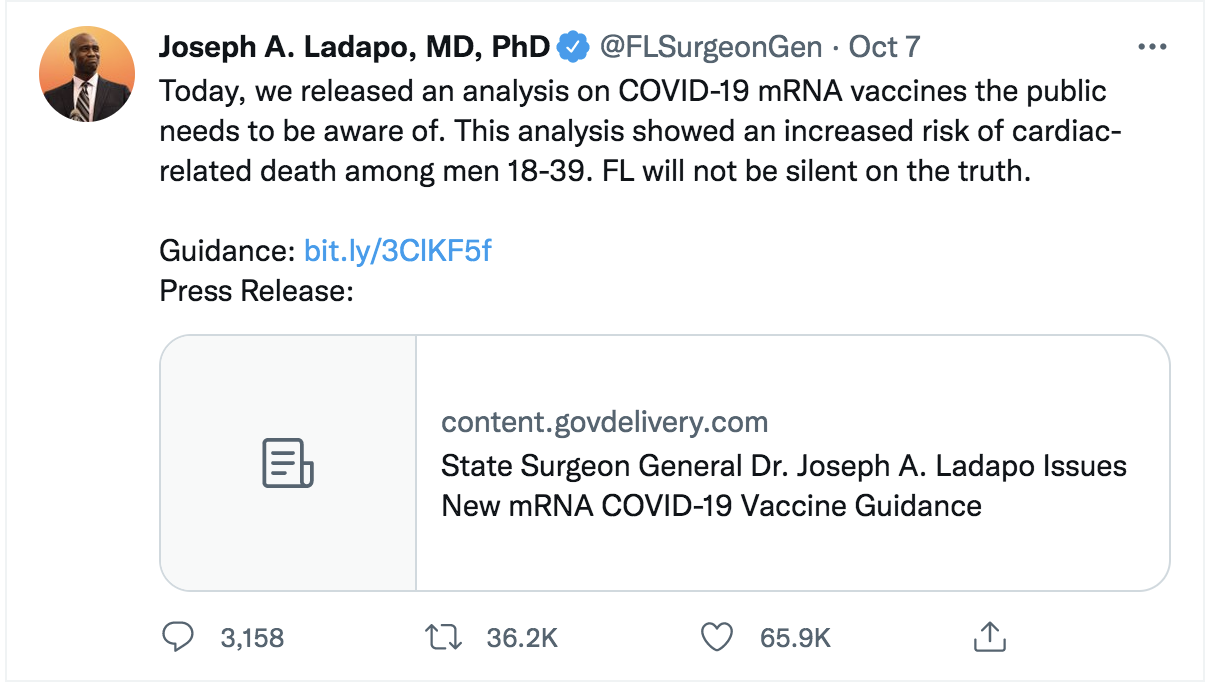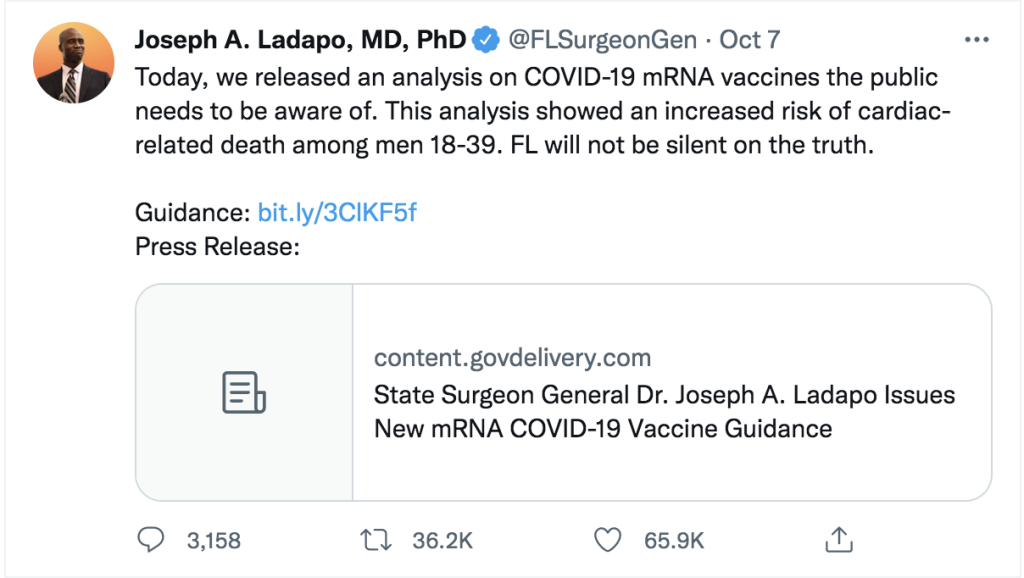 The study looked at data from Florida's reportable disease repository (Merlin), the Florida State Health Online Tracking System, and death records data from vital statistics.
The study concluded:
"COVID-19 vaccination was associated with a modestly increased risk for cardiac-related mortality 28 days following vaccination. Results from the stratified analysis for cardiac-related death following vaccination suggests mRNA vaccination may be driving the increased risk in males, especially among males aged 18 – 39."
Twitter medical and health censorship has grown more authoritarian and biased over the last few years heavily favoring many prominent health professionals and researchers who provide evidence, no matter how credible, that challenges the current government narrative.
Days before Twitter removed Dr. Ladapo's tweet, it disappeared world-renowned Board Certified medical expert Dr. Peter McCullough's entire account. Dr. McCullough, the most published peer-reviewed cardiologist & internist in history had over 500,000 followers before the de-platforming.
Higher rates of myocarditis in young men after mRNA shots than is being reported has been the theme of both Dr. Ladapo's censored tweet and one of Dr. McCullough's predominate messages over the past year. From its actions, It appears Twitter doesn't want this message shared widely.
In a recent interview with The HighWire, Dr. Ladapo sat down with host Del Bigtree to discuss the censorship of health professionals during the pandemic response over the last two years.