Americans are overweight. And not surprisingly, the pandemic resulted in nearly 42 percent of individuals—adults, and children—reporting a significant weight gain, resulting in an average of about 30 extra pounds. With billions made from the mRNA gene damaging COVID-19 jabs currently waning in demand, the nation's burgeoning obesity epidemic gives Big Pharma a sizable market to target with its latest and greatest money-making weight loss drug. Enter the type 2 diabetes drug Ozempic, which is presently being used on a grand scale for weight loss and has taken Hollywood by storm. Also known as semaglutide, Ozempic (and Wegovy) make users feel full by acting upon monoamine neurotransmitters.
Yet—and this is the shocking part—over the past 65 years—most of the drugs that affect monoamine neurotransmitters licensed for the treatment of obesity have been withdrawn because of adverse reactions. Even more shocking, the reasons for withdrawal raise genuine concerns about the wisdom of using pharmacological agents that target monoamine neurotransmitters in controlling obesity. Significantly, post-marketing studies have demonstrated that psychiatric disturbances, cardiotoxicity (mainly attributable to re-uptake inhibitors), and drug abuse or dependence (mainly attributable to neurotransmitter-releasing agents) combined accounted for 83% of the withdrawals. Specifically, drugs like Ozempic cause some people to be agitated, irritable, or display other abnormal behaviors and may also cause some people to have suicidal thoughts and tendencies or become depressed.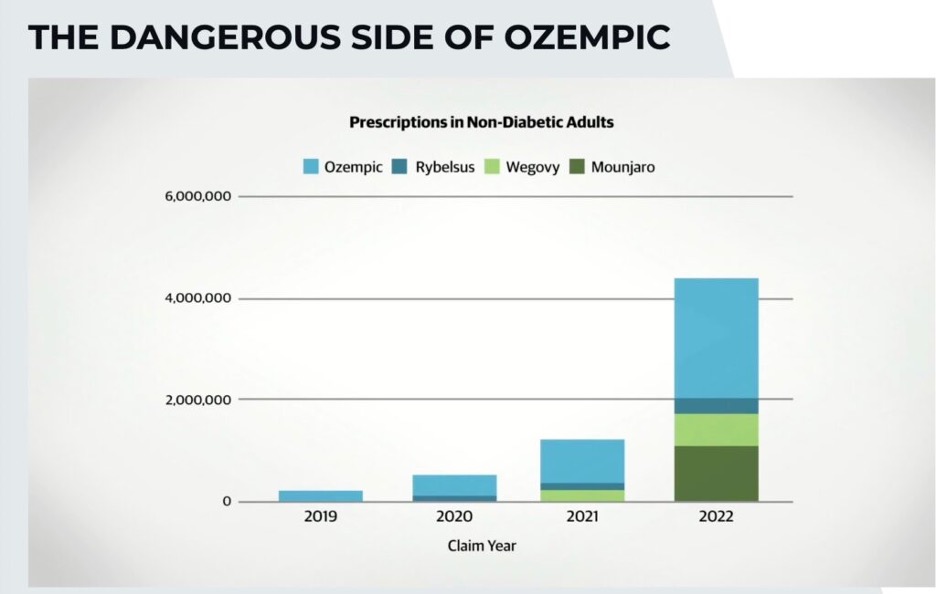 Besides suicidal behavior and ideation, important safety information provided by Novo Nordisk (maker of semaglutide drugs Wegovy, Ozempic, and Rybelsus) warns of the risk of thyroid c-cell tumors, acute pancreatitis, acute gallbladder disease, hypoglycemia, acute kidney injury, anaphylaxis, diabetic retinopathy complications in patients with type 2 diabetes, and heart rate increase. The drug maker also lists adverse reactions that they deem common, including nausea, diarrhea, vomiting, constipation, abdominal pain, headache, fatigue, dyspepsia, dizziness, abdominal distention, eructation, hypoglycemia in patients with type 2 diabetes, flatulence, gastroenteritis, gastroesophageal reflux disease, and nasopharyngitis.
Despite this grave list of warnings, similar to the EUA granted to the deadly and untested experimental COVID-19 jabs, in 2021, the FDA approved semaglutide (Wegovy) for chronic weight management. And Americans can rest assured that with paid shills like Dr. Fatima Cody Stanford influencing the Biden administration's upcoming 2025 review of the nation's Dietary Guidelines, the solution to treat obesity will increasingly lie within the lucrative billion-dollar Pharmaceutical Industrial Complex controlling the country's federal agencies. In 2022, Dr. Stanford received 35 payments totaling $52,566.13, most of which were consulting fees from Novo Nordisk.
Declaring that most people can't afford semaglutide, Dr. Stanford, whose shady activities have caught the eye of Senator Chuck Grassley, is undoubtedly influenced by drug makers like Novo Nordisk as she promotes Wegovy and advocates for a bill called The Treat and Reduce Obesity Act. The bill would require Medicare to cover anti-obesity drugs like Ozempic. As previously reported by The Highwire, in a January 1, 2023 interview with 60 Minutes' Lesley Stahl, Dr. Stanford highlighted the disparity between "the haves and the have-nots," remarking:
"We have a national shortage on these medications. If those that have the means are able to get them, yet the people that really need them are unable to. Then that creates a greater disparity, right?
The vast majority of people with obesity simply can't afford Wegovy and most insurance companies refuse to cover it partly because, as AHIP—the health insurance trade association—explained in a statement, these drugs "have not yet been proven to work well for long-term weight management and can have complications and adverse impacts on patients."
There is no doubt that obesity has a long-term negative impact on patients. But is a drug with a 65-year track record of suicide ideation really the answer? More importantly, the FDA is aware of the catastrophic risks associated with medications like semaglutide and is approving it anyway. Significantly, yet again, our great nation finds itself in a situation where Big Pharma has paid American regulatory agencies to turn a blind eye and ignore serious adverse events associated with a billion-dollar drug. Speaking recently to Jefferey Jaxen about the wave of suicidal instances currently tied to Ozempic, Del Bigtree highlighted the corruption around the clinical trials for semaglutide, explaining:
"What's so upsetting about this? It is the same story we see when we cover vaccines, and this is what it is. It's the regulatory agencies, folks. They're the ones that are part of the corruption. You want to talk about a swamp? This is it. Because for 65 years, you're telling me they know that this line of drugs, this approach towards weight loss, causes suicidal thoughts. And when they're overseeing and looking into the trials for Ozempic, wouldn't you think that if your regulatory agencies care about you, they would at least ensure that the one thing this trial was doing was ruling out the fact that it would cause suicidal thoughts?
That's the one thing you know [they] should be looking for. And instead, [they] look the other way while taking away anyone with depression or any problems that might be affected this way.
So, you let them stack their own deck. It's not like this is accidental. This didn't just show up as this one drug suddenly has this problem. Literally, the entire line of drugs like this—for 65 years—has one major problem. And your regulatory agencies just push it all the way through.
You've got children being recommended to take this drug, and all of a sudden, you've got a rise in school shootings, and it couldn't have anything to do with pharmaceuticals—it's all about guns. This is the problem. In this country the problem is with our regulatory agencies, and that is why we are very focused on stories just like this."
With horror stories of stomach paralysis related to Ozempic making the headlines, greater transparency in assessing harms from anti-obesity medications is absolutely warranted. The critical need for transparency was declared in 2016 when underscoring the withdrawal of drugs that affect monoamine neurotransmitters licensed for treating obesity and their relation to suicidal thoughts. As pointed out by Del Bigtree, suicidal thoughts and other emotional issues like anxiety are connected to your gut biome. Indeed, there are meaningful discussions around the fact that the stomach essentially serves as a second brain, "so much so that much of your serotonin and other emotional chemicals moving in your body are directly connected to your digestion." Stressing the importance of proper gut health, Harvard Health recently emphasized the significance of the gut-brain connection as it relates to anger, anxiety, and sadness.
So, let's ask again. Did the FDA know there might be a suicide issue connected to Ozempic? It sure seems so. After the mRNA COVID-19 jab debacle, Ozempic must not get a free pass. After all, the mass use of the drug is yet another experiment on humanity with no mention of the long-term effects of slowing digestion and manipulating hormones. Furthermore, without question and despite being swept under the rug, suicide and suicide ideation should be of monumental concern.