The year was 2016 and America was on its way to experiencing a record of over 60,000 drug overdose deaths at the time. The opioid epidemic was in full swing deeply carving out the soul of the country. That same year, the Los Angeles Times released an investigative piece titled OxyContin goes global – "We're only just getting started". The exposé reported that Purdue Pharma, maker of the addictive opioid OxyContin, was now expanding internationally. The LA Times wrote, "A network of international companies owned by the family is moving rapidly into Latin America, Asia, the Middle East, Africa and other regions, and pushing for broad use of painkillers in places ill-prepared to deal with the ravages of opioid abuse and addiction." 
Mundipharma international is a network of pharmaceutical companies owned by the Sackler family – the same family who own and operate Purdue Pharma. Purdue Pharma is currently facing over 1,600 claims as well as being sued by more than three dozen states for its role in America's opioid epidemic. Aggressive marketing tactics, underplaying the painkiller's addictive qualities, and lack of proper oversight have all contributed to root a raging epidemic that has blurred the lines into street drugs. 
Regulatory adjustments, mounting legal issues, medical community disgust and a population made painfully aware of the harms caused by opioids has made America an inhospitable place for Purdue Pharma to peddle its drugs. So the pharmaceutical zombie has found new life and an unaware citizenry oversees.
The LA Times 2016 investigation prompted an urgent letter to World Health Organization (WHO) Director-General Margaret Chan. Spearheaded by Massachusetts Congresswoman Katherine Clark and Kentucky Congressman Hal Rogers and signed by ten additional members of Congress, the letter urged Chan and the WHO to "…do everything in its power to avoid allowing the same [Purdue Pharma] to begin a worldwide opioid epidemic." Citing irrefutable examples and internal documents, the members of Congress wrote:
"We urge the WHO to learn from our experience and rein in this reckless and dangerous behavior while there is still time."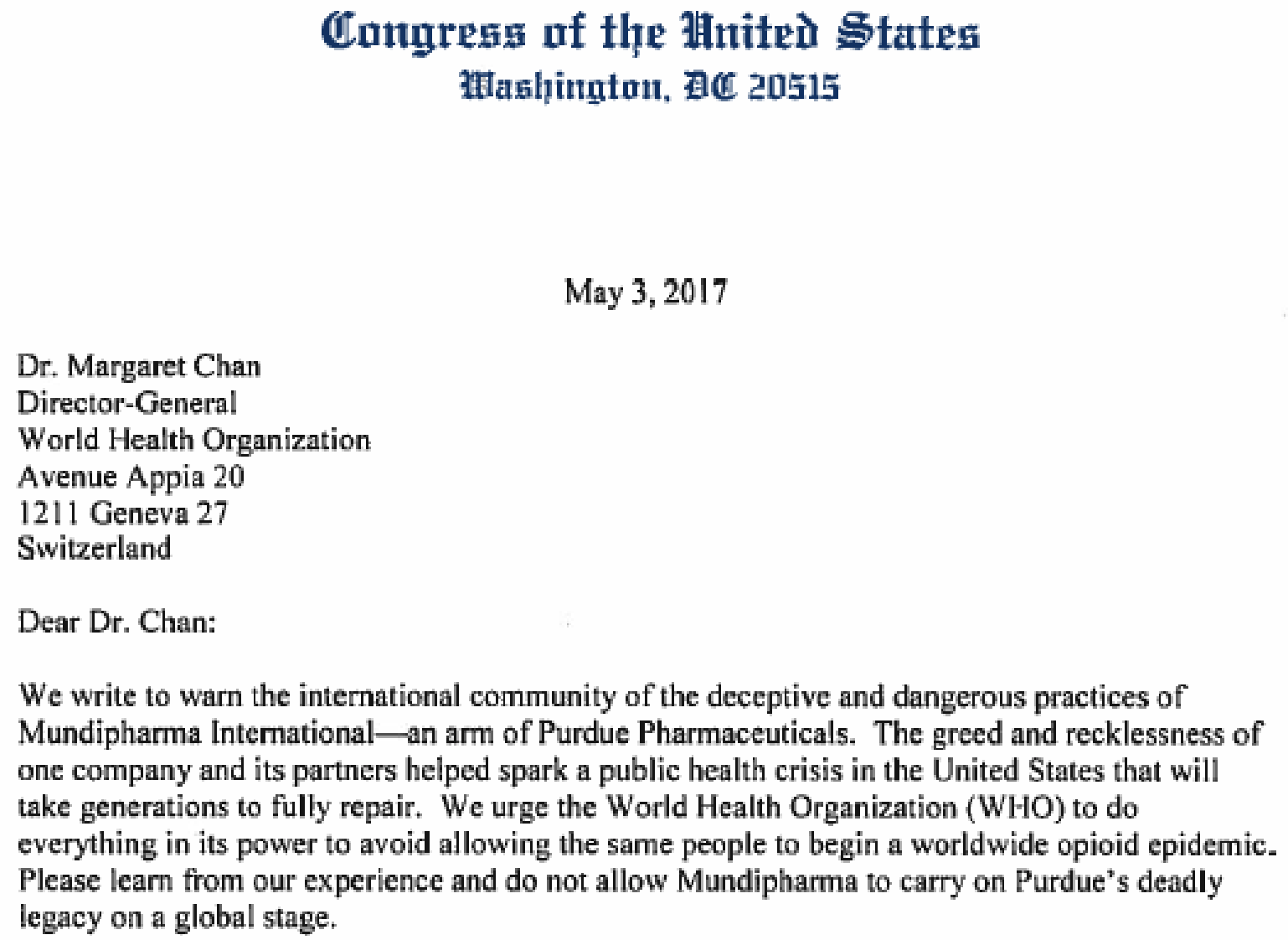 But it was already too late. Little did Clark, Rogers and the other members of Congress know at the time, the WHO's guidelines and policy on opioids had already been updated to reflect deep industry talking points. 
As early as 2007 WHO began seeking input on new opioid guidelines. A third of the organizations WHO consulted had known financial relationships with the opioid industry. Four years later, WHO produced the first of its updated guidelines titled Ensuring Balance in National Policies on Controlled Substances, Guidance for Availability and Accessibility of Controlled Medicines. The document repeated the Purdue claim that dependency occurs in less than one percent of patients, despite no scientific evidence supporting this claim and a multitude of studies contradicting it. The document states, "Opioid analgesics, if prescribed in accordance with established dosage regimes, are known to be safe and there is no need to fear accidental death or dependence."
One year later, WHO published its second update, this time aimed at children, titled Pharmacological Treatment of Persisting Pain in Children with Medical Illnesses. WHO's document used the marketing term 'opiophobia' coined by the the opioid industry and utilized often by Purdue. The term was meant to sideline anyone with concerns about overprescribing the drugs, their addictive properties or their associated harms. In essence, the term ran cover for the recklessly marketed drug and rendered those questioning it or adhering to a cautionary approach as ridiculed outliers.   
WHO claims in its updated guiding document that there is no maximum dosage of strong opioids, like OxyContin, for children. Despite U.S. Public health agencies findings that fatal overdoses skyrocket in adult patients prescribed 90 morphine milligram equivalents per day.
Another smoking gun appears to be WHO altering the three-step pain treatment ladder for children. The original guidance suggested going from non-opioids, to combination non- opioids and low-dose opioids, and finally to strong opioids. WHO's new approach removed step two and jumps from non-opioids directly to strong opioids like OxyContin. 
Purdue planning documents from the 90's obtained through discovery identified replacing combination drugs [step 2] as part of their marketing strategy. Those documents state, "Fixed combination opioids…have been the drugs of choice for treating moderate to moderately severe cancer pain…Combination opioids are considered primary competition for OxyContin." WHO's new pain ladder gave the industry exactly what they have been aiming for by helping to eliminate their "primary competition."
A new congressional report detailing WHO's infiltration by the opioid industry was recently released by the offices of Clark and Rogers titled Exposing Dangerous Opioid Manufacturer Influence at the World Health Organization. The document states, "We are disturbed that the WHO, a trusted international agency, appears to be lending the opioid industry its voice and credibility." The Congressional report goes on to warn, "Based on the course of events that has taken place in the U.S. over the past 20 years, if the recommendations in these WHO guidelines are followed, there is a significant risk of sparking a worldwide public health crisis."
In a dark, prophetic twist of events, days after this Congressional report was made public, more internal emails were reported from Purdue Pharma. The former chairman and president of Purdue, Richard Sackler, was warned by a friend that the addictive nature of OxyContin could make him the next Pablo Escobar. Sackler received the email from an anesthesiologist friend who said he had a friend whose daughter was approached with the drug at school in 2002. The email stated, "Somebody tried to sell her OxyContin in the halls of the school. I asked her what she shows about — what she knew about OxyContin. I never discussed your company, et cetera, in her presence. Her reply: 'It's a designer drug, and sort of like heroin.' I hate to say this, but you could become the Pablo Escobar of the new millennium,"
If indeed the WHO doesn't update their opioid policies to reflect real world conditions, Sackler may indeed experience the distribution and carnage of his opioid product at a level Escobar could have never imagined possible.