By Jefferey Jaxen
Negative vaccine efficacy has arrived in the minds and experiences of the public in addition to being published in the scientific data. Two directions – two diametrically opposed narratives now face every public health leader and government official directly in the face.
Continue speeding down a road of society-crippling vaccinate mandates failing to stop transmission or look at the new science and data to admit that we can 'learn to live' with a virus now mimicking a flu or common cold.
As for the COVID shots, in light of their admitted failure to stop infection, and perhaps even increase the odds of it, it appears best to allow [trust] people to make their own health decisions each balancing their own risk-benefit ratio.
Here's what we know so far. Despite the media claiming to report truth and conduct deep investigation, their top contributor to the vaccine debate, being offered disproportionate air-time, has been Pfizer CEO Albert Bourla. Bourla, literally the least unbiased person in the world to speak on vaccines and having the greatest financial incentive to never let slip the inconvenient truths about his products, dropped a bombshell last week.
Meanwhile, a new study looked at Canadians 18 years of age and over with provincial health insurance who had a PCR test for SARS-CoV-2 between November 22 and December 19, 2021. Despite excluding long-term care residents and people who had received only 1 dose of COVID-19 vaccine or who had received their second dose less than 7 days prior to being tested, the researchers found the following:
"…receipt of 2 doses of COVID-19 vaccines was not protective against Omicron infection at any point in time, and VE was –38% (95%CI, –61%, –18%) 120-179 days and –42% (95%CI, –69%, –19%) 180-239 days after the second dose. VE against Omicron was 37% (95%CI, 19-50%) ≥7 days after receiving an mRNA vaccine for the third dose. Findings were consistent for any combination of 2 mRNA vaccines and 2 doses of BNT162b2 for the primary series."
The authors concluded that "two doses of COVID-19 vaccines are unlikely to protect against infection by Omicron. A third dose provides some protection in the immediate term, but substantially less than against Delta."
In Denmark, a similar study was being conducted using vaccination data extracted from Danish nationwide registries. Looking at the vaccine effectiveness of both Pfizer's and Moderna's COVID shot against the Omicron variant up to five months after each version's 2-dose vaccination series.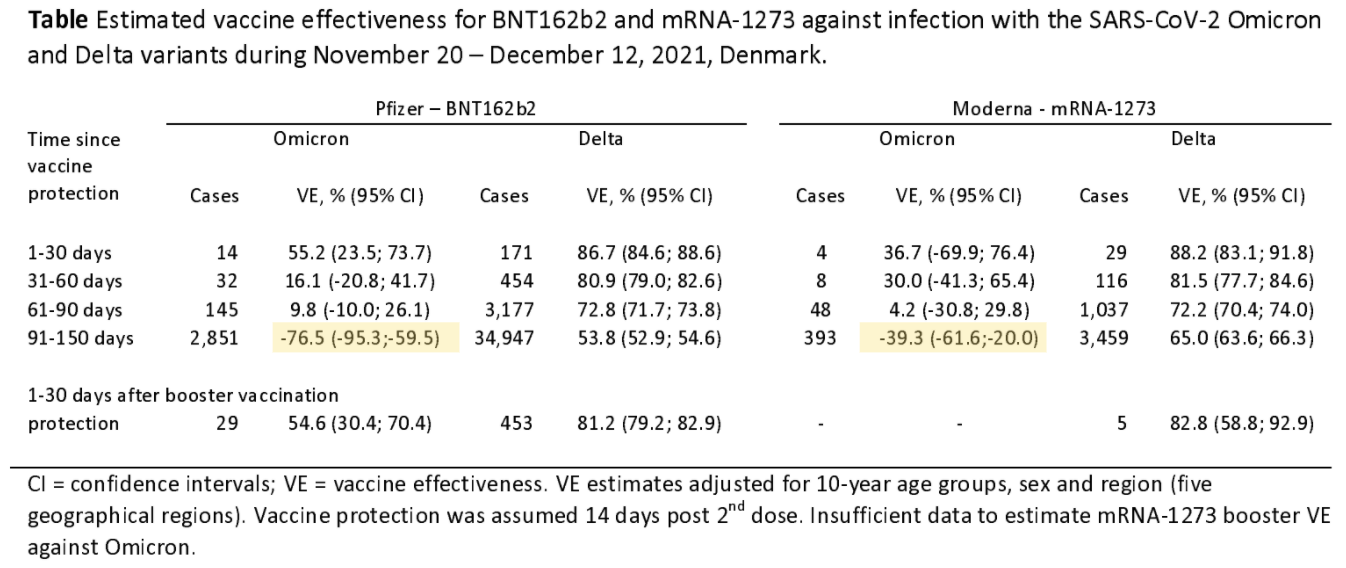 Again, negative efficacy or a greater likelihood of infection among those who received the COVID shot.
Looking at U.K. data, excess Covid cases are hitting the vaccinated groups. Looking at the U.K. Health Security Agency's Week 1 Covid-19 Vaccine Surveillance Report, a Substack writer keenly gleaned that nearly 370,000 more vaccinated cases in the 18 – 29 age group; and over 341,000 more vaccinated cases in the 30 -39 age group.
Even the headlines are telling a similar story. The Herald out of Scotland is reporting "double-jabbed Scots are now more likely to be admitted to hospital with Covid than the unvaccinated amid an increase in elderly people falling ill due to waning immunity."


How about South Africa where only 27 percent of its population are fully vaccinated against COVID-19? A recent study has shown that unvaccinated people infected with the Omicron variant are less likely to fall seriously ill, require hospitalization or die compared to the previous COVID-19 variants.
In Australia, as tennis titan Novak Djokovic's fate as a world-class athlete with documented natural immunity to Covid has been deported as a health risk to society, New South Wales Premier Dominic Perrottet told reporters that around half of those in the state's intensive care units were vaccinated.
Seconds after Perrottet's words hit the newswire, the propagandists went to work in order to smooth out the rough edges. Once a conspiracy theory worthy of deplatforming anyone who suggested, hospitals over-counting Covid cases is now being used to explain away the high numbers of vaccinated in hospitals.
Deakin University epidemiologist Professor Catherine Bennett told news.com.au "They are potentially overcounting vaccinated people in ICU with Covid because of these incidental infections," Prof Bennett said.
Trying to spin a positive picture, Prof Bennett stated that the high number of vaccinated in the hospital showed "Vaccination is absolutely working and you can see that even through this cloudy picture."
In the wake of Omicron, being called 'nature's vaccine,' why is society still aggressively pushing vaccine passports? Why are the unvaccinated still being locked out of society and persecuted at levels of historic ignorance. And finally, in the wake of such widespread failure of vaccine efficacy to stop both transmission and infection, why has the Supreme Court taken away the right of healthcare workers, the most medically literate members of American society, to make their own healthcare decisions?