The Biden administration's refusal to acknowledge the power of natural immunity against COVID-19 is an eye-opening example of the widespread collusion and corruption permeating what feels like all aspects of American lives. Despite numerous reputable experts and bombshell studies—including a significant one last week in The Lancet—revealing natural immunity's important role against COVID-19 since the start of the pandemic, the war against the human body's natural defense mechanism has been, at the very least, troubling to witness. The fight to repeatedly discredit natural immunity as a damaging theory emphasizes the immensely persuasive leverage the pharmaceutical industry has over our government and mainstream media. It also confirms that a more extensive and scandalous agenda is at play—completely ignoring what is best for the health of the American people and humanity as a whole. Instead, as pointed out by former Blackrock advisor Edward Dowd, big pharma is using on the human population the same Bill Gates business model used in the eighties in software—selling solutions to the problems they create. In this case, "Destroy the natural immunity, then sell follow-on products once that's destroyed for symptoms and disease control."
Bill Gates funded the recent article in The Lancet. What is his motive? Dependent upon life-long customers, the healthcare industry is the fastest-growing industry in the nation and, for that matter, the world. The effort to suppress information on natural immunity during the politicized and hugely profitable pandemic is deliberate and far-reaching. Helping cast doubt on natural immunity—while categorizing those leery of experimental vaccines as part of the maligned "anti-vaxxers" group—on May 12, 2020, the center-left nonprofit Mother Jones published an article titled "Anti-Vaxxers Have a Dangerous Theory Called 'Natural Immunity.' Now It's Going Mainstream." With significant funding from Bill Gates' partner, Planned Parenthood supporter, and Trump critic, the MacArthur Foundation, the article reinforced attacks on President Trump's goal at the time of keeping the country open by calling out "fringe groups" and promoting that "infectious disease experts all agree that the "herd immunity" approach would be catastrophic."
Looking Back at the Politicized Attack on Natural Immunity
On Oct. 31, 2020, in an article with a view quite different from the one published last week, The Lancet published a paper titled "Scientific consensus on the COVID-19 pandemic: we need to act now." With funding linked to Bill Gates and one of the article's authors being then-Chief of Infectious Diseases at Massachusetts General Hospital Rochelle Walensky, the widely distributed message from the study was that "there is no evidence for lasting protective immunity to SARS-CoV-2 following natural infection" and that "the consequence of waning immunity would present a risk to vulnerable populations for the indefinite future." Labeling natural herd immunity as "a dangerous fallacy unsupported by scientific evidence," Walensky and others instead called for strategies advocated by The World Health Organization (WHO), including physical distancing, face masks, lockdowns, contact tracing, and isolation, all while the world awaited the vaccines.
To support their "scientific consensus," the Lancet paper promoted the "John Snow Memorandum," written in response to the Great Barrington Declaration (GBD) and signed by Walensky. The Snow memorandum declared there was "no evidence for lasting protective immunity to SARS-CoV-2 following natural immunity." The group maintained this theme for many months, announcing in January 2022 in the BJM the need for "an urgent call for global "vaccine plus" action." With Walensky now head of the CDC, the group requested that the WHO (which supports "vaccine plus") and national governments unequivocally declare SARS-CoV-2 an airborne pathogen, promote the use of high-quality face masks for indoor gatherings, advise on adequate ventilation and air filtration systems, set criteria to relax transmission measures based on "test, trace, isolate," and support urgent efforts to achieve global vaccine equity.
With that in mind, looking back at President Trump's COVID strategy prior to the October 2020 Lancet article, it is crucial to remember that the former president planned to embrace what critics called "a dangerous and discredited herd immunity via mass infection strategy." Without a doubt, Trump's objective of avoiding shutting down the entire country and adopting a more practical approach was a very real threat to the fear-based global COVID narrative promoted by Gates, WHO, Wellcome, and others, which, significantly included the long-awaited massive clinical trial set to begin once the rushed experimental and long-planned mRNA COVID-19 injections were ready to be pushed into the arms of all Americans and the world at large.
With Trump's objective in mind, on Aug. 26, 2020, his Coronavirus Advisor, Dr. Scott Atlas, arranged a closed press roundtable with medical experts to discuss the president's herd immunity strategy. For the discussion, Atlas invited Dr. Jay Bhattacharya from Stanford, Dr. Martin Kulldorff from Harvard, Dr. Joseph Lapado from UCLA, and Dr. Cody Meissner from Tufts—all of whom supported this approach—to speak with the President, Vice President, and other administration officials about the pandemic response. Among those invited, Dr. Deborah Birx refused to attend the discussion, emailing Mark Short, VP Pence's Chief of Staff, the day before the meeting, offering to "go out of town or whatever to give the WH cover" for her absence. Birx, who pushed heavily for the discredited mask mandates, described the medical experts Atlas invited as "a fringe group without grounding in epidemics, public health or on the ground common sense experience."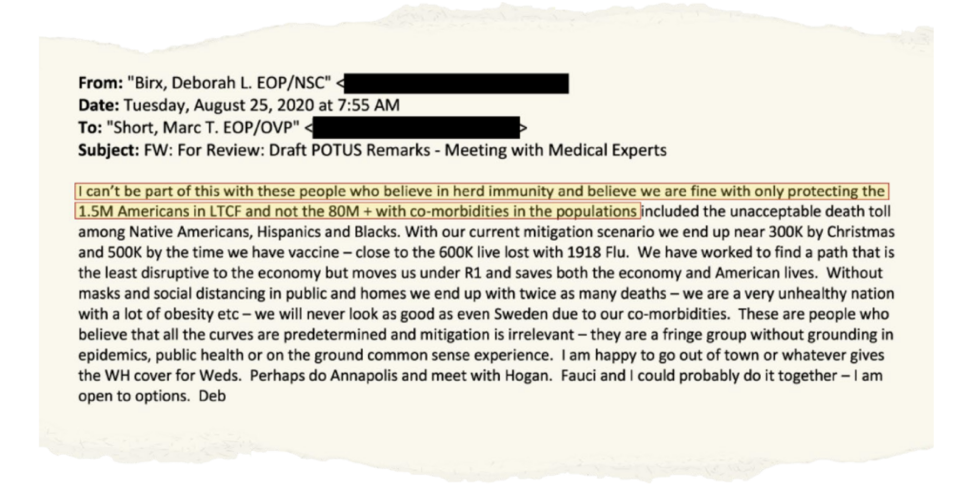 Screenshot / Democrats Select Subcommittee on the Coronavirus Crisis[/caption]
On Aug. 27, 2020, the day after the roundtable and a week after Democratic nominee Joe Biden promised to lead the nation out of a "season of darkness," President Trump accepted the Republican nomination for the 2020 presidential race against Democrat and scandal-ridden Biden. In a speech to the nation, Trump noted that the cost of Biden's fear-based shutdown, should he become president, "would be measured in increased drug overdoses, depression, alcohol addiction, suicides, heart attacks, and economic devastation." With mainstream media visibly against him, Trump explained his administration's very different approach, remarking, "To save as many lives as possible, we are focusing on the science, the facts, and the data. We are aggressively sheltering those at highest risk, especially the elderly, while allowing lower-risk Americans to safely return to work and to school, and we want to see so many of those great states be opened by Democrats. We want them to be open. They have to be open. They have to get back to work."
Like clockwork, a day later, on Aug. 28, 2020, the move to discredit herd immunity persisted, including by the WHO, which released a video titled "WHO's Science in 5 on COVID-19—Herd Immunity—Aug. 28, 2020." Asserting that society should "talk about herd immunity in the context of a vaccine" to eliminate the "great human cost" that would occur with reaching it naturally, WHO Chief Scientist Dr. Soumya Swaminathan remarked, "so our strategy is to vaccinate enough people rather than just letting people get infected." Conveniently, in what certainly strengthened the mass vaccination narrative coming around the corner, existing treatments like Ivermectin and Hydroxychloroquine were immediately labeled as ineffective in treating COVID. Thus, with no effective remedy available, Swaminathan stated that until there was a vaccine, slowing the spread with stringent measures was the only option.
On Oct. 5, 2020, a month before the presidential election, Atlas coordinated another meeting between senior Trump administration officials, including HHS Secretary Alex Azar and medical experts Dr. Bhattacharya, Dr. Kulldorff, and Dr. Sunetra Gupta. On Oct. 4, the day before the meeting, the medical experts released the aforementioned Great Barrington Declaration (GBD), which endorsed the herd immunity approach supported by President Trump and Atlas. Not surprisingly, in a coordinated assault, the GBD was swiftly shut down by Fauci and Collins. Immediately following the meeting, Azar tweeted about the science and data from around the world discussed at the gathering, which offered a "strong reinforcement" of Trump's strategy to protect the vulnerable while opening schools and the workplace. Of course, in what is most likely criminal and well-funded, Trump lost the election, and Joe Biden became president.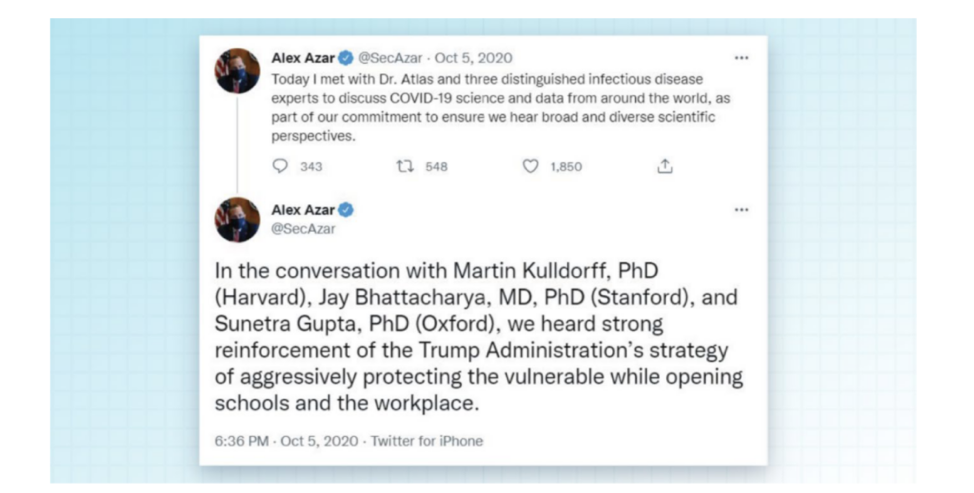 Screenshot / Democrats Select Subcommittee on the Coronavirus Crisis[/caption]
A year later and several months into the COVID-19 mass vaccination campaign, with Biden and the conspirators behind the Great Reset controlling the lives of unsuspecting Americans, the attack on natural immunity persisted—despite eighty-one studies praising the more robust and longer-lasting power of natural immunity. According to The Epoch Times, a secret meeting to discuss whether or not individuals with innate immunity should be exempt from getting COVID-19 vaccines took place on Oct. 12, 2021. The meeting, organized by U.S. Surgeon General Dr. Vivek Murthy, included Dr. Anthony Fauci, CDC Director Dr. Walensky, NIH Director Dr. Francis Collins, then White House vaccine coordinator Dr. Bechera Choicair, Dr. Paul Offit, Dr. Michael Osterholm, Akiko Iwasaki, and vaccine tyrant Dr. Peter Hotez.
Yet, despite research demonstrating that natural immunity was long-lasting and superior to COVID-19 vaccination, the meeting did not change the CDC's vaccination policy. Instead, Fauci and the others downplayed that protection, insisting it is inferior to vaccine-induced immunity. Dr. Bhattacharya, who did not participate in the meeting, condemned how such an influential discussion occurred behind closed doors with only a few people attending, telling the Epoch Times, "It was a really impactful decision that they made in private with a very small number of people involved. And they reached the wrong decision." Corroborating the evidence in support of natural immunity, on an Oct. 7, 2021, episode of Morning Wire, Johns Hopkins University School of Medicine professor Dr. Marty Makary, who accused the CDC of cherry-picking the data to support whatever they've already decided," remarked:
"The data on natural immunity are now overwhelming. It turns out the hypothesis that our public health leaders had that vaccinated immunity is better and stronger than natural immunity was wrong. They got it backwards. And now we've got data from Israel showing that natural immunity is 27 times more effective than vaccinated immunity. And that supports 15 other studies."
Remarkably, on Nov. 5, 2021, thanks to a FOIA request submitted on behalf of the Informed Consent Action Network (ICAN) by attorney Aaron Siri, it was revealed that the CDC does not collect data on people who have acquired natural immunity. According to Siri, with evident proof that those vaccinated with COVID-19 jabs spread the virus, this revelation presents questions about vaccine mandates, notably how vaccines can be mandated for individuals who may not need them and who could be at a greater-than-average risk of experiencing an adverse reaction to the experimental shots. Surely frustrated by the duplicity of the CDC and well-versed on why natural immunity is superior to vaccine immunity, Siri wrote:
"The CDC's excuse for not having a shred of evidence of the naturally immune transmitting the virus is that "this information is not collected." What?! No proof! But yet, the CDC is actively crushing the rights of millions of naturally immune individuals in this country if they do not get the vaccine on the assumption they can transmit the virus. But despite clear proof the vaccinated spread the virus, the CDC lifts restrictions on the vaccinated?! That is dystopian.
The facts about natural immunity are simple—see this link for exchange with CDC regarding same. Every single peer-reviewed study in this exchange with the CDC has found that the naturally immune have far greater than 99% protection from having COVID-19, and this immunity does not wane. In contrast, the COVID-19 vaccine provides, at best, 95% protection, and this immunity wanes rapidly. I am no mathematician, but a constant 99% seems preferable to a 95% that quickly drops. And, while the vaccinated readily transmit the virus, not so for the naturally immune.
The lesson, yet again, is not that health authorities should never make mistakes. They will. It happens. The lesson is that civil and individual rights should never be contingent upon a medical procedure. Everyone, the naturally immune or otherwise, who wants to get vaccinated and boosted should be free to do so. But nobody should be coerced by the government to partake in any medical procedure."
In January 2022, five months after issuing a media statement declaring that COVID-19 vaccination offers higher protection than a previous COVID-19 infection, the CDC published a report emphasizing that the opposite is true with the Delta variant, as noted in the Defender. At the same time, as previously mentioned, Walensky and the other signatories of the John Snow Memorandum called for a "vaccine-plus strategy," aggressively supporting vaccines and restrictive measures while dismissing natural immunity. Speaking of the new CDC data, Dr. Vinay Prasad, associate professor of epidemiology and biostatistics and the University of California, pointed out that it finally confirms the power of natural immunity supported by Israeli data, which shows "if you have had COVID-19 and recovered, your probability of catching the virus again and getting sick so you require hospitalization is very, very, very low." Prasad expressed disappointment in the lack of "gold standard" randomized control trials on the subject since the well-funded FDA could have compelled such trials. Disappointed, he remarked, "we have a very low regulatory standard which is something I have quite a problem with."
Indeed, the FDA's deficient regulatory standards are explicit in the Pfizer documents released in April 2022, thanks to Siri and ICAN. The records confirm that the company, which has made billions off its experimental COVID-19 shots, was aware that natural immunity was as effective as its experimental vaccine at preventing severe illness. Analyzing the "first bombshell" in the trove of documents, journalist Kim Iverson commented:
"Yet rather than say people with natural immunity don't seem to need the vaccine … Pfizer instead spun their conclusion and said, 'final efficacy results show that the vaccine provided protection against COVID-19 for participants with or without evidence of prior infection."
Further exposing the profit-driven politicized attack on natural immunity, the Twitter files released by Elon Musk show that former FDA Commissioner and Pfizer board member Dr. Scott Gottlieb pressured Twitter to take action against a post accurately noting that natural immunity is superior to COVID-19 vaccination.
Screenshot / CDC / Myths and Facts About COVID-19 Vaccines, updated Feb. 26, 2023[/caption]
The Lancet Article & Motive Behind Sudden Shift in Message
Discussing the Lancet's Feb. 16, 2023 article, Robert F. Kennedy, Jr., chairman and chief litigation counsel for Children's Health Defense, said:
"The Lancet is finally acknowledging what doctors and scientists have been gaslit for saying for years—that natural immunity provides superior protection to experimental vaccines."
Indeed, the study found that immunity obtained from infection was often more powerful and waned more slowly than immunity from two doses of an untested mRNA vaccine.
Still, the motives behind the study coming out now must be considered. One of the authors, Dr. Christopher Murray, is the director of The Institute for Health Metrics and Evaluation (IHME), a Gates-funded institute "largely responsible for the notoriously exaggerated mortality calculations that overestimated COVID deaths by 20-fold at the COVID pandemic's outset," as pointed out by Kennedy. Offering additional insight into the Lancet study findings, Dr. Meryl Nass, internist and epidemiologist remarked:
"While framing this as an acknowledgment that natural immunity confers protection, what it is also doing is providing tacit agreement that government-imposed policies restricting travel are acceptable. It furthermore provides tacit approval of vaccine passports."
Strengthening the strategically crafted message (similar to Fauci's emergency teleconference shaping the story on the origins of COVID), a paper published last month in Cell Host & Microbe, co-authored by Fauci, concludes that coronaviruses and other predominately mucosal respiratory viruses "have not been controlled by licensed or experimental vaccines." In other words, they admit the vaccines haven't succeeded, yet mainstream media continues to spread the message that vaccination is the best way to protect against COVID-19. Linking the findings published in Cell and The Lancet with Gates and Fauci's recent admission that the vaccines are failing, Nass elucidated that the end goal is to accept no blame but instead craft the script so the message is clear that more money is needed to develop new types of vaccines.
With a future increasingly intertwined with technology like the mRNA vaccines and technocrats like Klaus Schwab and Bill Gates repeatedly practicing for the next catastrophe while inching closer to transhumanism, it's not surprising that, as they half admit the COVID-19 vaccines are failing, they also make a hard push for more vaccines. Unquestionably, natural immunity is the enemy.