With little in-depth publicity, Harvard University announced it plans to "force out" misinformation expert Joan Donovan from her role as research director of the Harvard Kennedy School's (HKS) Shorenstein Center on Media, Politics, and Public Policy. The departure will also spell the end of her stint as "Principal Investigator" of the Technology and Social Change (TaSC) project, which she has led since 2019 to "explore media manipulation as a means to control public conversation, derail democracy, and disrupt society." However, as individuals increasingly join together to seek truth, one might argue that, like the FBI, the Biden administration, and others, Donovan and her truth-suppressing global cohorts are themselves manipulating media and society by repeatedly silencing the truth.
The TaSC project, like the other interconnected mind-control and censorship operations underway across the nation and globe, spawned into life as an extension of the well-documented shadow campaign inconspicuously constructed to influence media and, thus, society leading up to the 2020 presidential election. Of course, media manipulation has been around for ages, but with the frenzy around COVID, it is certainly becoming more discernible. For their part, Harvard Kennedy School Professor Matthew Baum and Donovan began studying disinformation "and the people who created it" following the 2016 election, when the term "fake news" became cemented in the political conversation.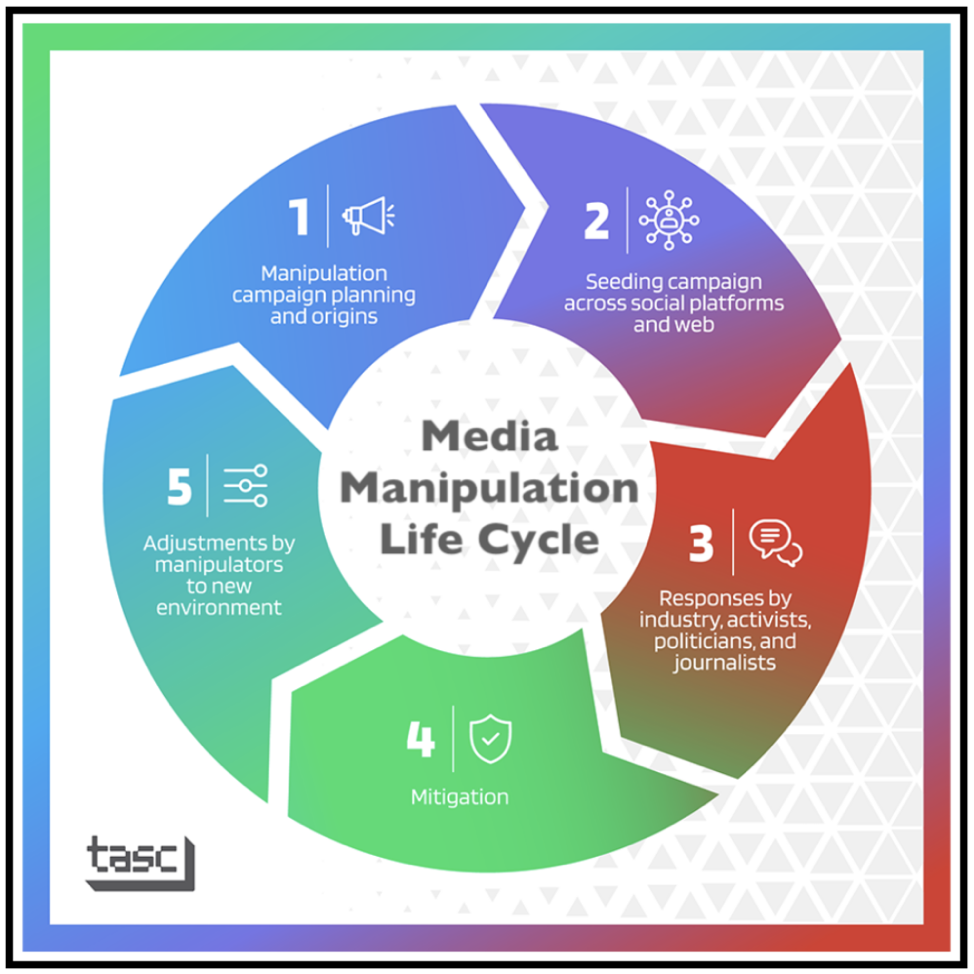 Screenshot / TaSC / Media Manipulation Casebook / Blueprint for Documenting and Debunking Misinformation
Along with the Media Manipulation Casebook, as part of TaSC's strategy to quiet both free-thinking individuals and free-thinking experts sharing intelligent messages, in early January 2020, the project launched the nation's first scholarly, "peer-reviewed" journal on fake news. Labeled the HKS Misinformation Review, the well-funded publication quickly got busy setting the record straight on media disinformation campaigns and foreign interference by "vastly speed[ing] up the typical lag in publishing peer-reviewed research from more than a year to just a month or two."
Upon its launch, the HKS Misinformation Review was promoted as an unbiased forum to make rampant digital disinformation "less of a threat" in future national elections since "our decisions are only as good as the information we have to base them on." According to Donovan—who has participated with Global Engagement Center founder Richard Stengel in discussions on combating fake news—"it is a misnomer, albeit a popular one, to imagine social media as an attention economy, where individual users are making independent choices of where to spend their time." Hmm.. does Donovan really believe—that in the midst of tyrannical and logic-defying directives—human beings aren't intelligent enough to think for themselves and independently search for the truth?
Of course, the elephant in the room is the fact that those aiming to stifle free speech and control online content—whether the topic is elections, COVID, or climate change—are well aware that the most significant asset and most valuable resource in the rapidly expanding digital information age is, quite simply, the attention of mankind. Fiercely powerful when joined together, where is that attention focused? Quite a scary thought to the global elite as their falsehoods are increasingly being exposed. Thus, with the ushering in of the COVID-19 pandemic in early 2020, Donovan and the HKS Misinformation Review wasted no time in expanding their targeting of "fake news" beyond politics, replacing any off-narrative truth-based statements on COVID-19 with fear-mongering government and big-pharma-sponsored propaganda.
The disinformation campaign by TaSC and its nationwide partner, the COVID States Project, swiftly attacked and discredited brave independent media sources, well-respected medical experts, scientists, and others not in lockstep with the authoritarian agenda long envisioned by the United Nations, WEF, Bill Gates, WHO, Biden's Build Back Better, and so on. Launched in March 2020 at the same time the WHO declared a global pandemic, the extensive COVID States Project is supported with grants from the taxpayer-funded (and notoriously wasteful) National Science Foundation, the Knight Foundation (which supports Facebook partner Poynter), the Russell Sage Foundation (a Bill & Melinda Gates Foundation partner), the Peter G. Peterson Foundation (a regular donor to the Clinton Foundation), and Amazon.
In a move to support the COVID-19 mass vaccination campaign as it got underway, Donovan, her Media Manipulation Casebook, TaSC, and the COVID States Project began fueling division and propagating the association between what it determined was vaccine misinformation and vaccine resistance and hesitancy. Moreover, much to the despair of patient-centered experts who saw positive results using drugs like Ivermectin and Hydroxychloroquine, concerted action to manipulate data to ensure no safe and effective treatment existed against SARS-CoV-2 guaranteed the experimental EUA-authorized gene-therapy jabs became the mandated strategy to stop the spread of COVID-19. A goal the CDC now publicly confirms the jabs did not achieve.
Nonetheless, complacent in relying on very little or fraudulent information and throwing safety to the wind, Donovan and her team outwardly promoted that the spike protein, lipid-nanoparticle encapsulated mRNA COVID-19 injections, which have never been tested on humans, are safe. Yet, with mounting evidence to the contrary (as revealed in Pfizer's clinical trial data to the FDA) and tens of thousands of serious adverse events following COVID-19 vaccination, Donovan's careless guidance is nothing short of criminal. In a December 8, 2020 podcast titled "There's no vaccine for lies about the COVID-19 vaccine," Donovan shared her thoughts on the high "misinformation stakes" as the vaccine rollout began, remarking:
"Over the past couple of weeks, I've had several doctors, as well as hospital librarians, asking us for help, because people are showing up having junk science at their back, asking about vaccine safety. And doctors are wondering, "Why is it these questions? Why now at this scale?
We also need to do quite a bit of cleanup online, especially around very key phrases related to the vaccine ingredients and vaccine harms, because we have over a decade now of vaccine misinformation that is just littered about the internet, much of which has been waiting for this moment to burst into the public consciousness."
Besides exploiting the deceitful virtues of the COVID jabs, TaSC (a project funded by the Ford Foundation, which joins Bill Gates, Pfizer, and others to partner with the UN Foundation) has targeted other COVID misinformation as well. A serious focus of several well-respected legislators like Rep. Jim Jordan (R-OH) and what is now widely considered a very real possibility, Donovan and her team promptly dispelled the notion that SARS-CoV-2 might have been leaked from a Chinese lab. And before descending on credible, science-based health information, Donovan, who previously submitted a report to UN Special Rapporteur on disinformation, cast doubt on the Hunter Biden laptop story and co-authored a widely-read study asserting that a majority of participants in the January 6 attack on the Capitol were motivated by their support for President Trump.
As it stands now, according to The Crimson, Donovan was told she has until summer 2024 to end the TaSC project and depart from her role at HKS. Moreover, she is not allowed to raise new funding. It is believed that tensions between HKS Dean Douglas W. Elmendorf and untenured Donovan rose in the fall of 2021 when she began working on HKS' unfinished Facebook archive project. According to The Crimson, other initiatives related to the study of misinformation and disinformation will continue, including the Facebook archive project and the Misinformation Review.
Still, despite Donovan's departure, the attack on free speech will surely continue. Especially given the culture at Harvard, the heavy funding supporting its influence over misinformation, and the overwhelming initiative to manipulate free speech across the United States. Indeed, Donovan's motive for suppressing the truth aligns with many trying to silence the truth talkers, as evidenced in her comments in the previously mentioned "There's no vaccine for lies about the COVID-19 vaccine" podcast. When asked about "tools platforms have employed" to label and link to "some vetted source," a clearly biased Donovan proclaimed:
"In some instances, they're not targeted enough in terms of pointing people towards accurate information, that they've almost started to become, at least in the right-wing media ecosystem, they start to become a bit of a joke or a badge of honor to some folks."